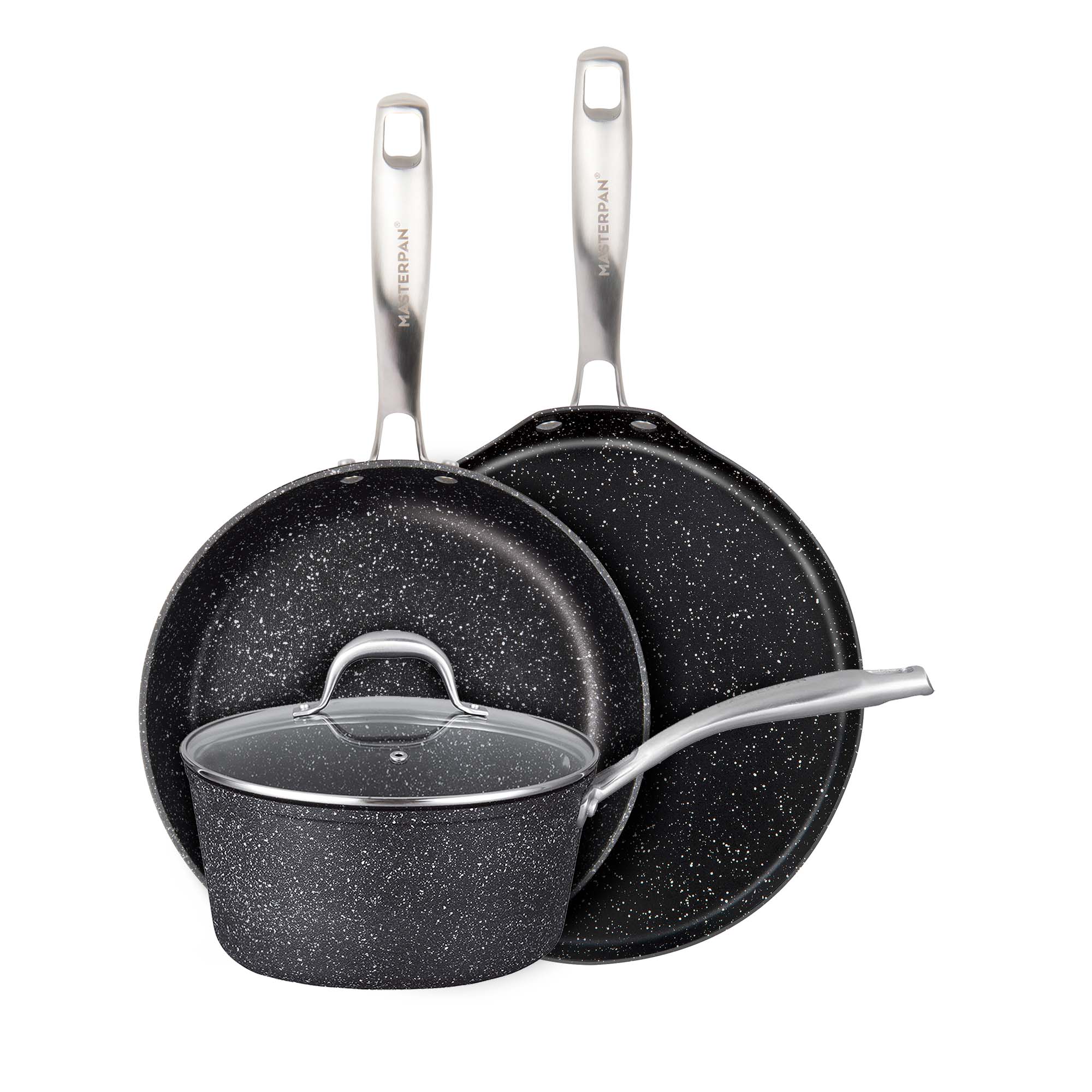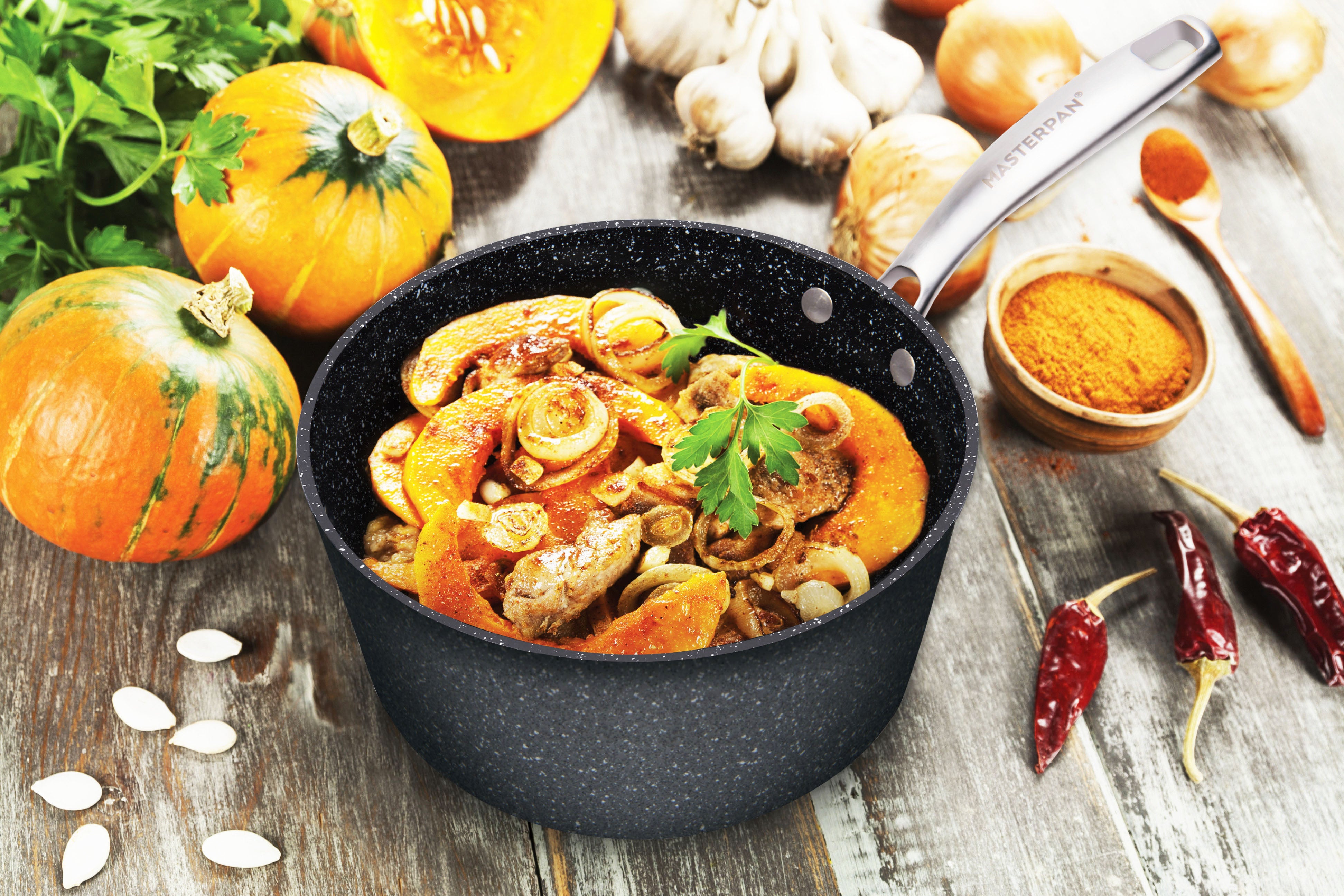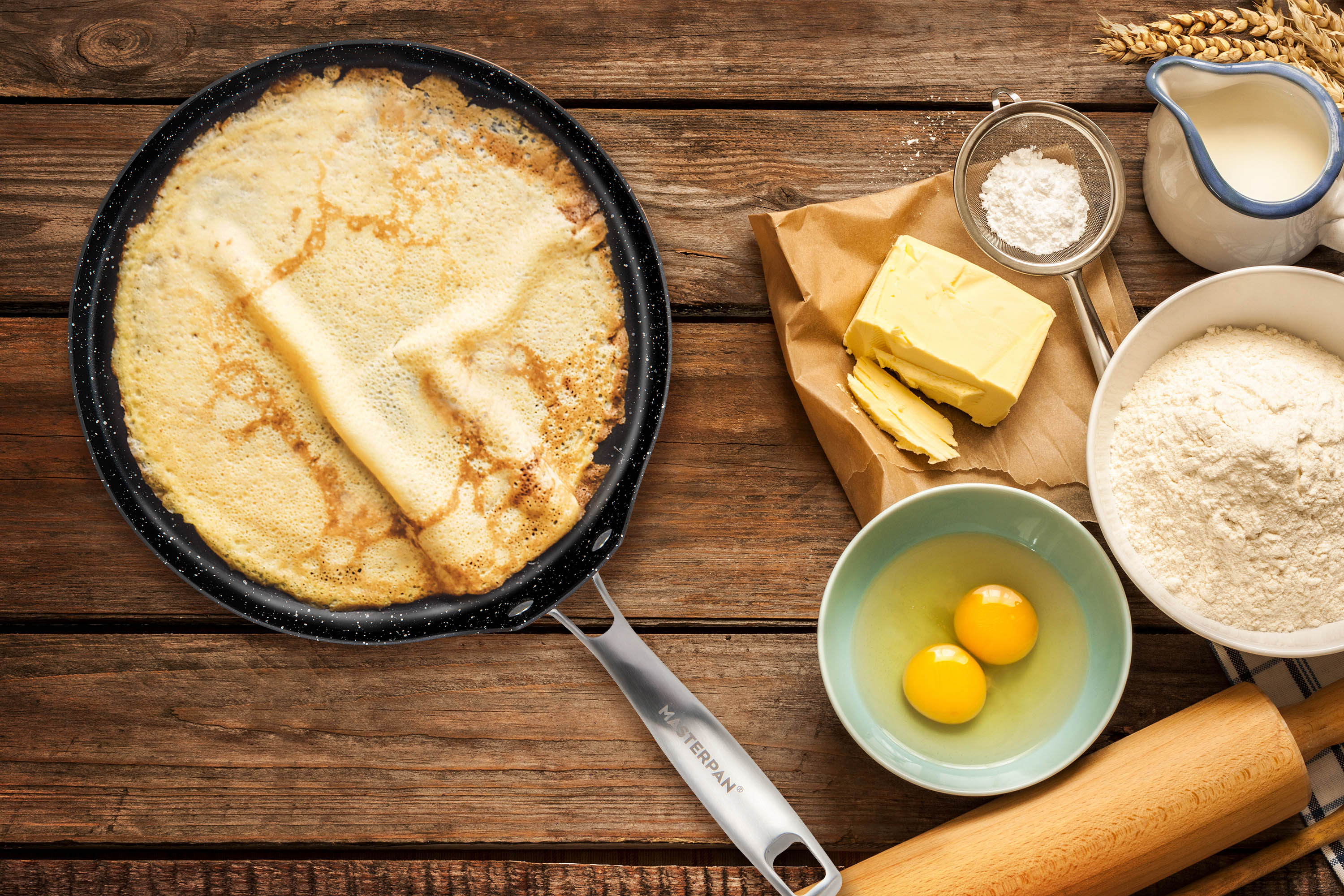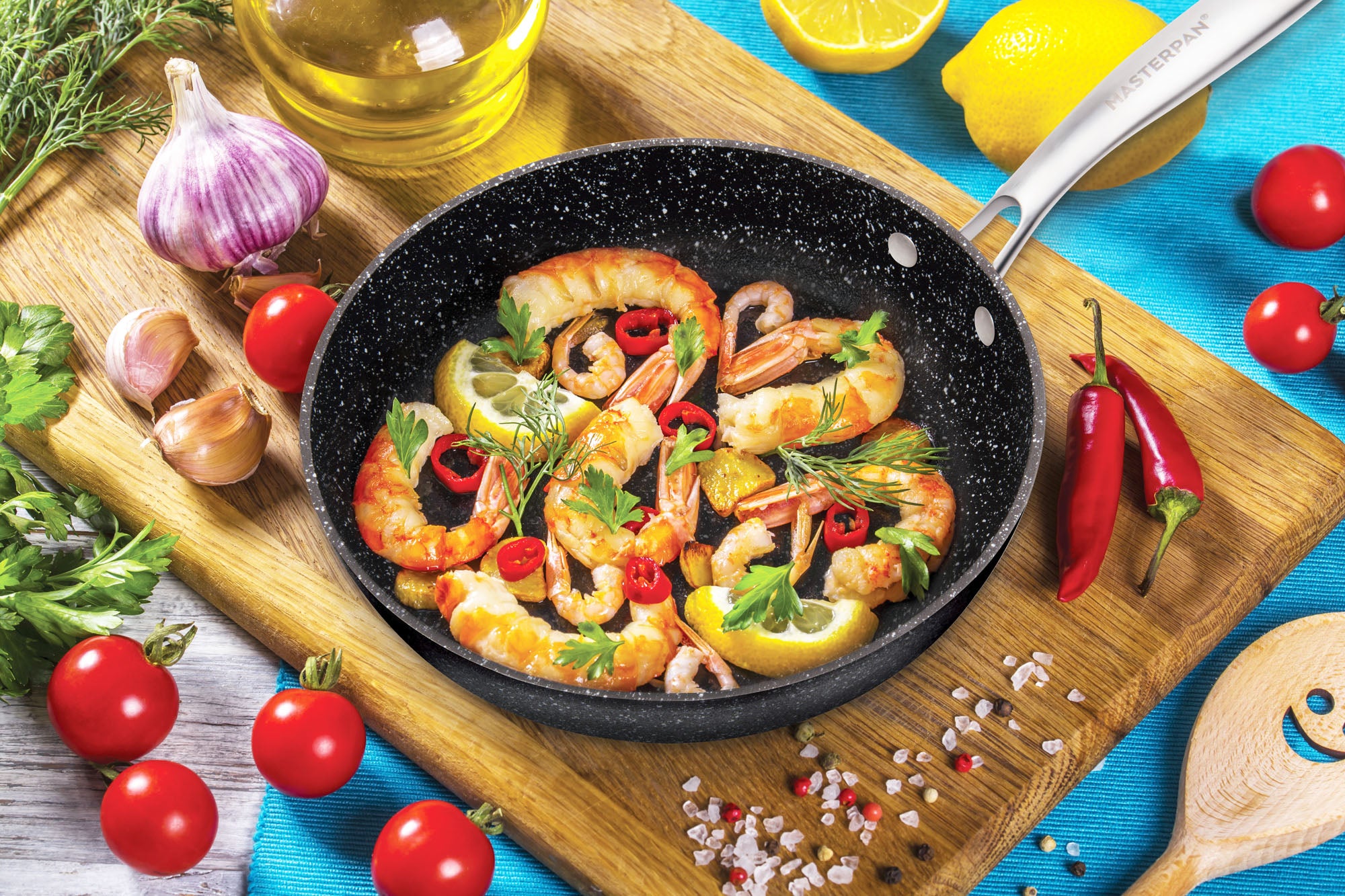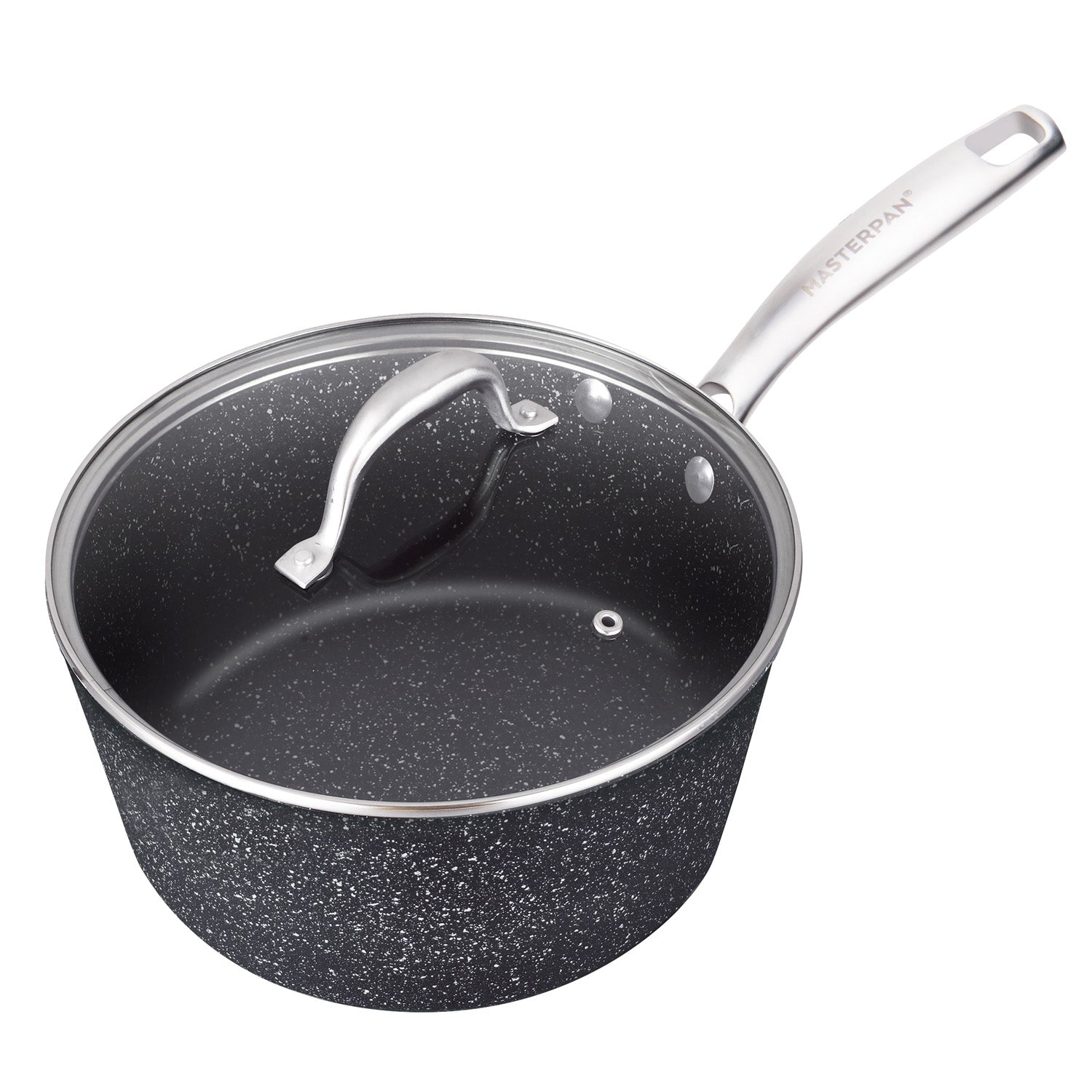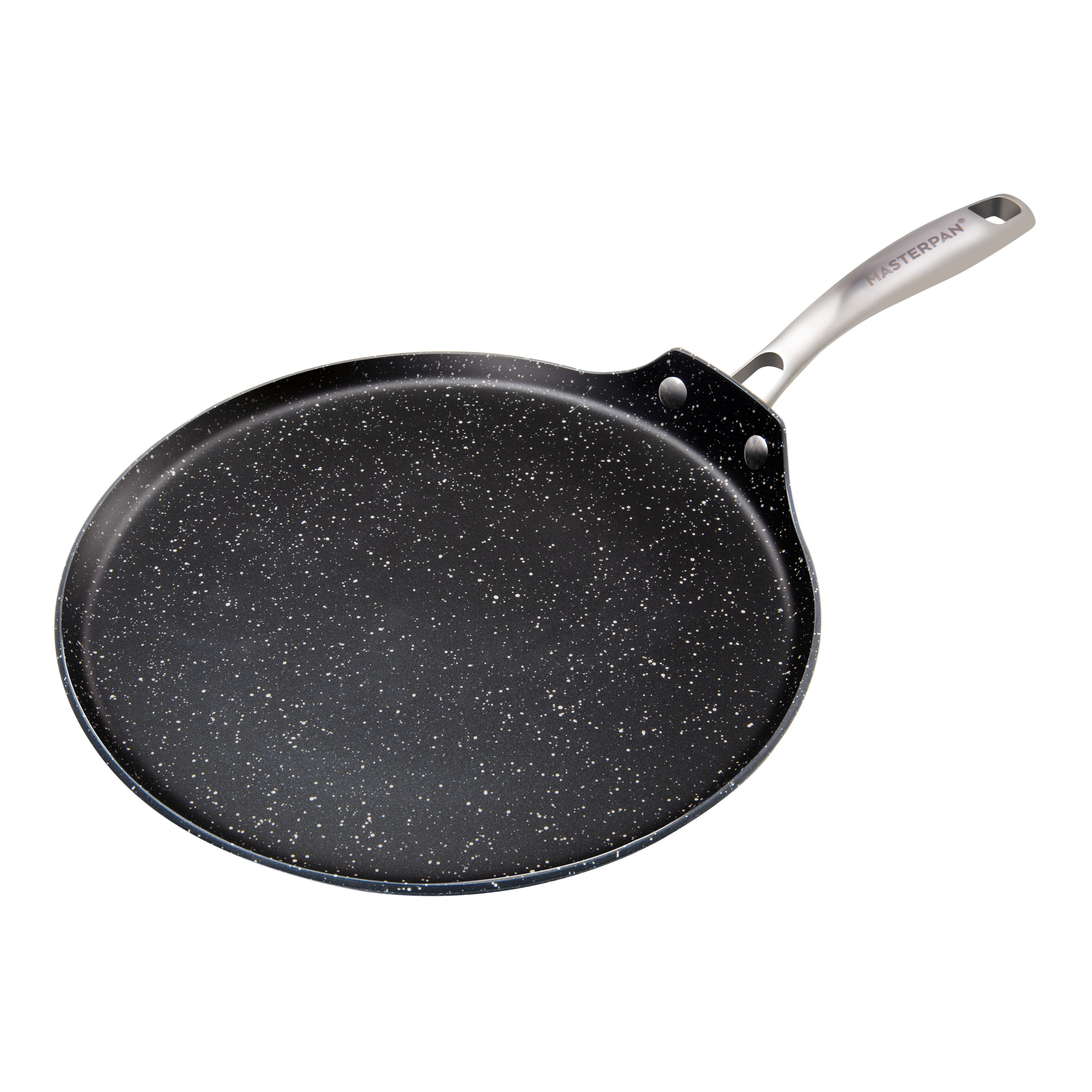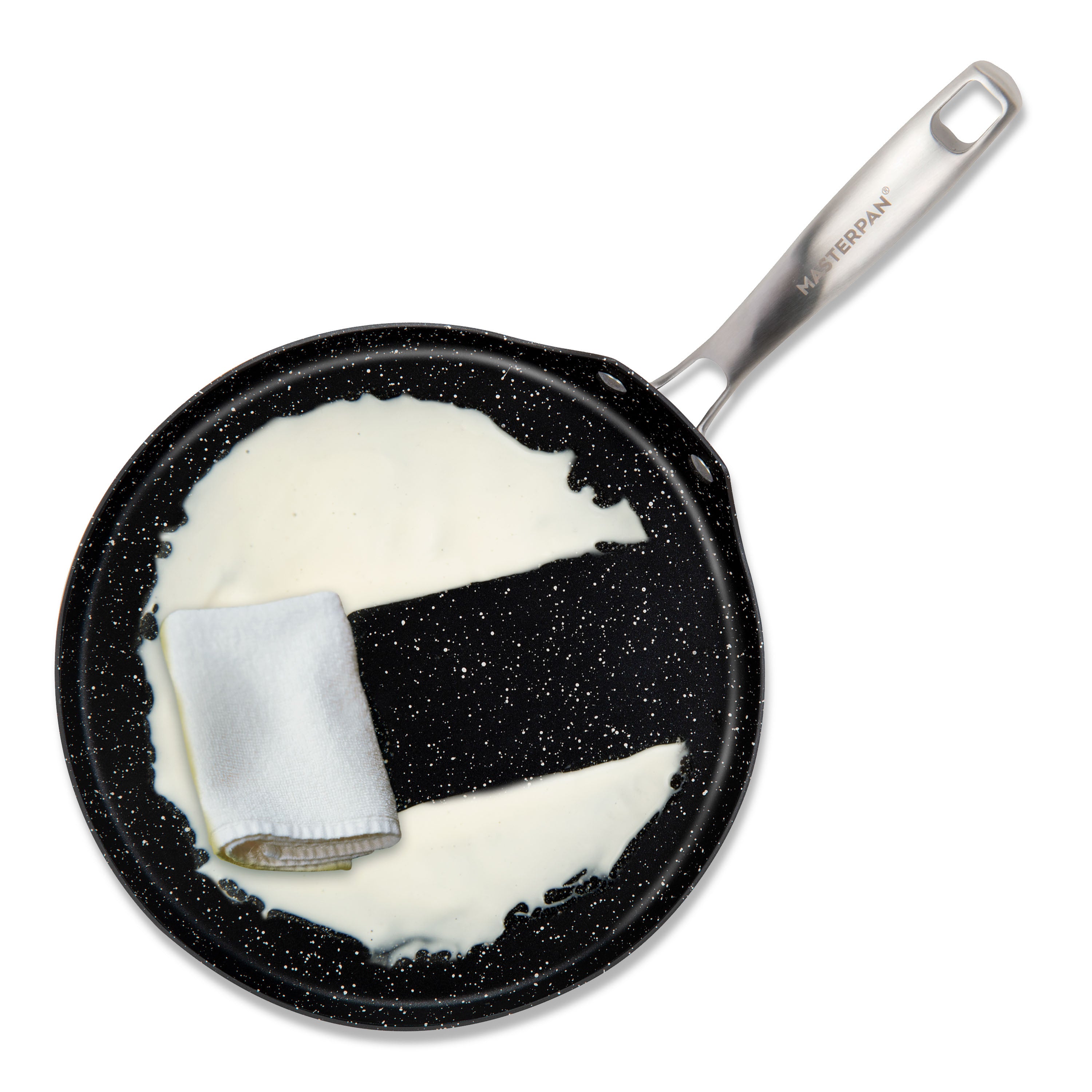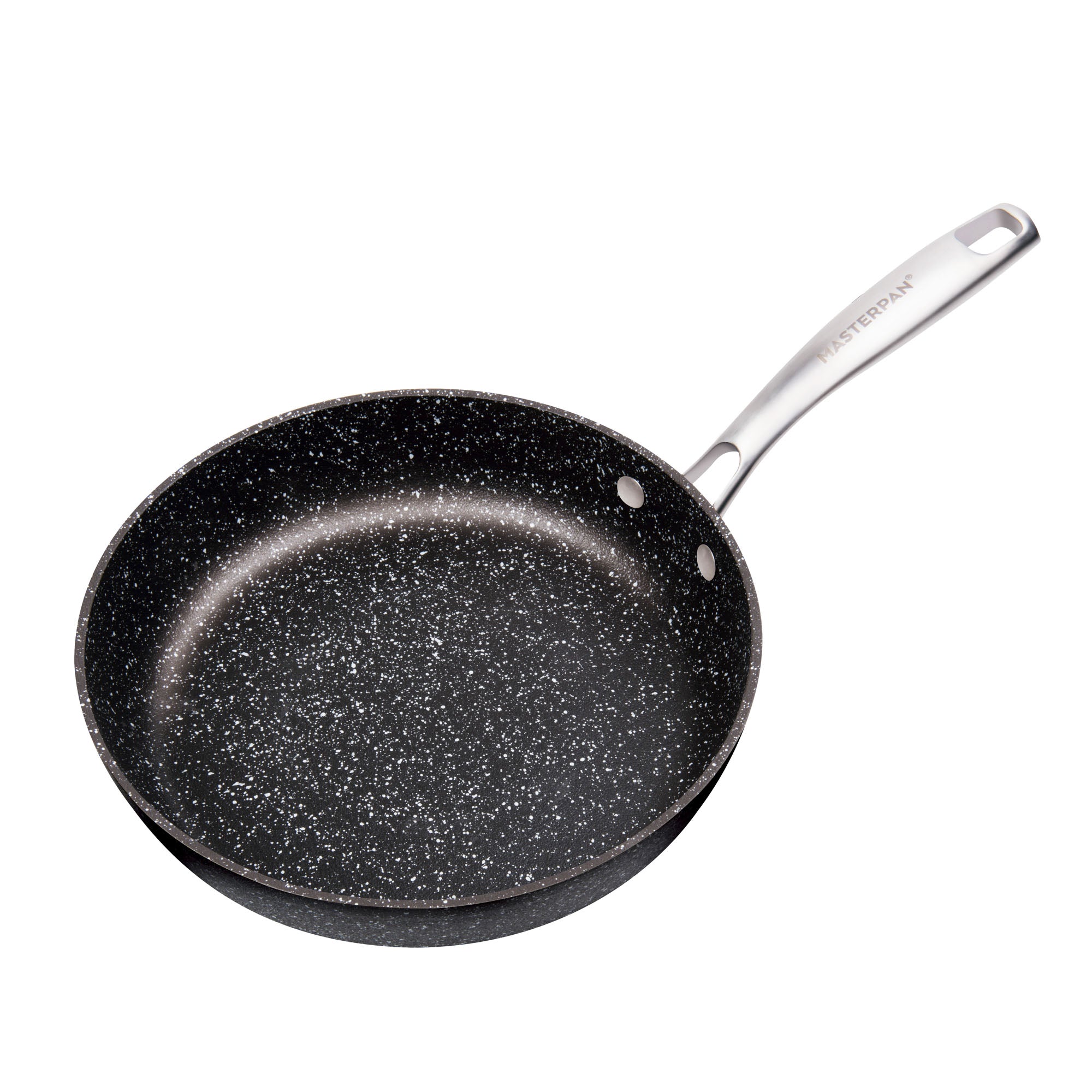 a
3 PACK BUNDLE - 9.5" FRY PAN + 11" CREPE PAN + 7" SAUCEPAN WITH GLASS LID, WITH STAINLESS STEEL RIVETED HANDLES, CAST ALUMINUM WITH SUPERIOR NON-STICK
$189.97
Out of stock
Sku No. BUN-15 (MP-133,128,130)
The MASTERPAN 9.5" Non-Stick Fry Pan has a double layer of sand blasted non-stick Masterlon ceramic coating which creates the appearance of marble, and lends extra durability and elegant style to both the interior and exterior of this top tier scratch-resistant, non-stick cookware. The MASTERPAN Non-Stick Ceramic Fry Pan is built to outlast run-of-the-mill non-stick cookware. A round hole induction base makes it especially well-suited for use on induction stovetops, but it is designed for use on any heat source. Whether it's the perfect helping of eggs sunny side up, or that new stir-fry recipe you've been dying to try, this all-use pan is every chef's best friend.

The MASTERPAN 11" (28cm) Crepe / Pancake Pan is a must have for any kitchen and is crafted from cast aluminum with a stainless steel riveted handle, and then finished with a premium  non-stick coating. It has a perfect flat surface and  low walls  for easy access but still prevent any spillage when frying, making it the ideal pan for crepes, pancakes, tortillas, rotis, eggs, quesadillas, and much more. The sleek style and ultra durability fulfills all your cooking desires. Part of our Premium Series Granite Range, the pan boasts a streamlined black-grey marble look, inside and out,  with a stainless steel  handle making it an ideal addition to any kitchen and your cooking needs. Cookware that is guaranteed to perform as amazing as it looks!

The MASTERPAN 7" Non-Stick Sauce Pan's top quality 2-layer ultra non-stick Masterlon coating will last far longer than conventional non-stick cookware, and can be used on any heat source including induction stovetops. As part of our Granite Range, the pan boasts a streamlined black-grey marble look—inside and out. This non-stick sauce pan is ideal for stirring up a batch of grandma's famously delicious homemade pasta sauce, and the best part is, the clean-up will be painless!
 
 
Discover what makes this so special
Amazing quality at low prices
MODERN DESIGN WITH SS ERGONOMIC HANDLE
surface has the appearance of black grey marble in interior and exterior; with ergonomically designed stainless steel handle for ease and comfort while cooking; a beautiful addition to your kitchen.


ULTRA NON-STICK & SCRATCH RESISTANT
food slides right off this elegant and optimally designed Masterlon 2-layer coating; wear-resistant; scratch resistant with high hardness; enhances both durability and cooking performance; ideal for use over high heat with minimum oil or butter—great for those into a healthy diet!
OVEN & DISHWASHER SAFE

oven safe up to 180°C (356°F) for up to 30 minutes. Once you're done cooking and the pan cools down, you can put it in the dishwasher or place it under hot water for an easy clean.


Customers also loved these